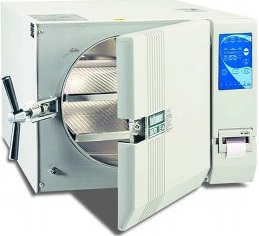 Product Description
Efficient, large capacity powerhouse
Designed with superior productivity in mind, the 3870EAP offers monitoring, recovery, standard printing and a wide range of programmable and customizable options for large capacity operation.
Increase Productivity
Easy-to-use, single touch control system increases productivity and rapid cycles optimize availability of ready-to-use sterile instruments
Agile, Flexible Operation
Three pre-set sterilization programs. Program and customize cycle parameters, Insufficient water detector with automatic shut-off.
Convenient
Supplied with a 3 shelf stand for easy storage
Maintains Sterility
Closed door active drying system to maintain sterility and ensure efficient drying of packs and pouches. Cycle information recovery in case of power failure or cycle interruption. Hepa filter 0.2 µm air filter (replaceable).
Durable Chamber
The long-life electro polished chamber and door are made to last
Superior Monitoring
Interdependent temperature and pressure monitoring
Details
Chamber Size 15″ x 30″
Voltage 220/230V
2 Year Warranty
Suggested Retail $20,636