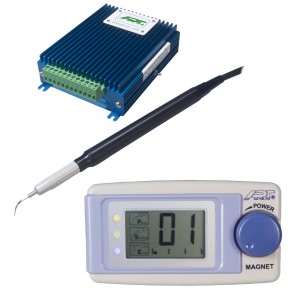 The ART-MB3 magnetostrictive built-in scaler was designed for those that wish to install a scaler to a dental fixture. The ART-MB3 features a 2"x3" LCD screen. Two models available: 25KHz and 30KHz.
Solenoid valve, transformer, and foot switch sold separately.
Product Description
CE and ISO certified
510K registered
Part number:
30kHz Model::  MB3-0-ART3-00-20-D
ART-MB3 Warranty:
P.C. Board: 5-year limited warranty
LCD screen: 1-year limited warranty
Hand Piece: 1-year limited warranty
Included Parts and Accessories:
PC Board
2"x3" LCD
VR Switch set
Terminal Block
Magnet hand piece with attached cable
TM0004-292 or TM0004-362: Universal internal water flow insert in 25KHz or 30KHz
TM0006-162 or TM0007-062: Universal external water flow insert in 25KHz or 30KH
Product Price:
$399.00

Click to add this item to cart.
Ship One Unit in Continental US *