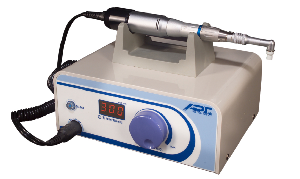 Product Description
The ART-PL3 comes equipped with Automatic Feedback Control and powerful torque. Furthermore, the prophy head is compatible with most major brand polishing cups and paste.ART-PL3 Warranty:
P.C. Board: 18-month limited warranty
Power Cord: 1-year limited warranty
Micro-Motor: 90-day limited warranty
Straight Nose Cone: 90-day limited warranty
Prophy (Polisher) Head: 90-day limited warranty
Foot Switch: 90-day limited warranty
Included Parts & Accessories:
ART PL3 Polishing main unit
MM0003-051: Micro-motor
MM0003-052: Straight nose cone
MM0003-052B: Stainless steel prophy head
Polishing cups and paste not included.
Included accessories may vary per region.
For veterinary use only.
Ship One Unit in Continental US *