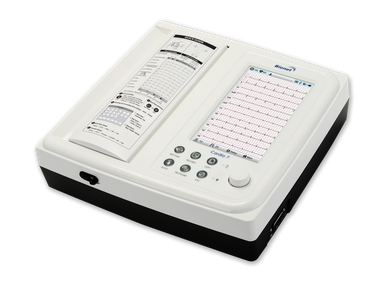 Product Description
Suggested Retail $2525.00
The Bionet Cardio7 Resting ECG is economically priced and reliable.  It features a large 7" TFT LCD touch screen, supports USB flash drive, a QWERTY keyboard, 5 minute recording time and storage of up to 120 patients. The Cardio7 is the most efficient and cost-effective 12 channel ECG, featuring print outs in multiple formats, including 12, 6 and 3 channel reports.
Clinically Important Simultaneous 12 Lead Acquisition
Cardio7 acquires 10 full seconds of ECG data simultaneously from 10 leads to produce an accurate 12 channel printout with analysis in less than 60 seconds!
Maximized Ease of Use
Cardio7 combines menu-guided touch screen technology with a convenient rotary key to maximize ease of use.
Built-In Memory and Supports USB Flash Drive
Store up to 120 ECGs in internal flash memory and the saved ECGs can be saved to an external USB flash drive PDFs or JPEGs to a flash drive.
Enhanced Interpretation
The ECG printout offers detailed interpretation information in beat report format to aid in diagnosis.  Provides 5 minute recording with HRV analysis, and 3 channel + 3 rhythm report. Supports Pediatric Interpretation.
Low Maintenance Cost
The Cardio7 uses normal fax paper which costs about ¼ the cost of ECG paper. It will even generate its own grid!
A4 Full Size Paper
The Cardio7 will produce full size A4 printouts in 1, 3, 6 and 12 channel formats. Full size print-outs improve readability and make it easier for filing in the patient chart.
ECG Filing System "EKG-Plus II"
| | |
| --- | --- |
| Product Price: | $2,249.00 |
| 1 Price | $0.00 |
| 2 Price | $0.00 |
| 3 Price | $0.00 |
Ship One Unit in Continental US *
Shipping:

Additional Charge for multiple units
| | |
| --- | --- |
| SPECIFICATIONS | |