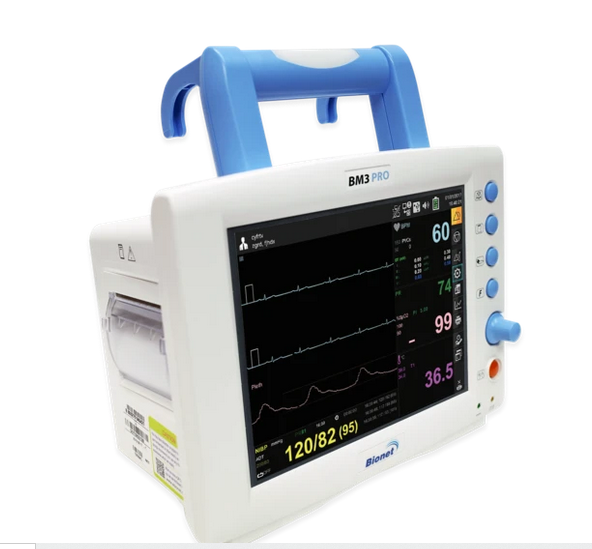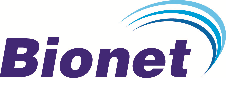 Product Description
Versatile, portable, and lightweight, the BM3 Pro patient monitor is specially designed to be reliable and user-friendly. The compact design, coupled with a unique handle, makes it easy to move from room to room. Its 8″ high resolution LCD touch screen displays all the vital signs in different colors for easy recognition. A built-in printer offers hard-copy documentation of all measured values, as well as up to 4 waveforms of information. Alarms and settings are easily adjustable and are retained after turning off the power. Plug-and-play side or mainstream EtCO2 sensor can be added at any time.
Intended Use: To monitor vital signs in patients, including: ECG, SpO2, NIBP, respiration, temperature and EtCO2. (Option: Temperature, EtCO2)
Superior Advantages
• ECG, SpO2, NIBP, respiration, temperature*, EtCO2*
• 8.0″ Color TFT Touch Screen with 4 Wave Forms
• Individual Sweep Speed Setting for Each Parameter
• SpO2  Measurement – Every Low Perfusion Detection / Pulse Beep
• Multiple Display Modes
• Screen Freeze On/Off
• 168 Full Hours of Trend Data Are Stored
• USB Memory Storage
• External HDMI Output for Large Screen
Enhanced & Extendible Multi-Parameter
• Sidestream/Mainstream EtCO2
High-Performance ECG Detection and Analysis
• Enhanced input impedance for dry skin or electrode patch
• Pacemaker detection function
Enhanced Data Management
• Graphical and tabular trends
• 20 cases – 10 sec. alarm waveform stored, reviewed and printed
• USB memory storage
Transportable
• Li-ion Rechargeable Battery Allows Cordless Use for 2 Hours
• Less than 7 lbs, including battery
Includes:
BM3 Pro Main Unit, 3 Lead ECG Cable (snap type) with Extension Cable, Electrodes, SpO2 Adult Finger Sensor and Extension Cable, NIBP Adult Cuff (arm circumference 25-35 cm) and Extension Tube, Chart Paper (x2), Power Adaptor & Hospital Grade Power Cord, Operation Manual, and 3-Year Warranty Card.
Options:
Temperature Probe (Skin), EtCO2 Sensor (Sidestream or Mainstream), and 5 Lead ECG Cable and Extension Cable
Accessories:
Warranty:
3-Year Warranty
Suggested Retail $2995.00
| | |
| --- | --- |
| Product Price: | $2,995.00 |
| 1 Price | $0.00 |
| 2 Price | $0.00 |
| 3 Price | $0.00 |