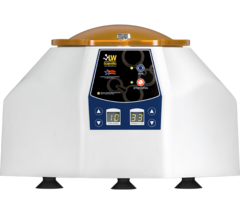 4-Place Fixed Angle Rotor
Spins 4  50ml test tubes
Used for Blood, Urine and Semen Separations
Max 3400 rpm / 1500 g
Product Description
The Universal Centrifuge from LW Scientific is the perfect solution for both laboratories and doctors' offices. This newest member of our USA centrifuge initiative features a ZERO-RPM locking lid for safety and digital programming of time and speed ranging from 800-3400rpm. Achieve up to 1450g with the fixed angle rotor and 1809g with the swing-out rotor resulting in clean, easy to read lines of separation. The LW Scientific Universal centrifuge has a 110-220v auto-switching power adapter.
Maximum Tube Sizes:

8-place fixed-angle rotor: 122mm tall and 17.5mm wide if spinning 8 tubes (full load), and 131mm tall and 17.5mm wide if spinning 4 tubes (every other position).
6-place swing-out rotor: 131mm tall and 17.5mm wide.
40-place microtube rotor: 11mm wide (at the collar) and 50mm tall.
4-place, 50ml rotor: 30mm wide and 120mm tall.
Applications: Blood, Urine, Semen, Fecal
Ship One Unit in Continental US *
Product Features
| | |
| --- | --- |
| Mfgr | LW Scientific |
| Suggested Retail | $999.00 |
| Conditon | NEW |