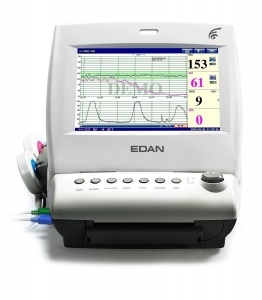 Product Description
EDAN F6 Dual Fetal Monitor
High end hospital grade monitor designed for multi-bed units with central station yet simple enough for private practice, it offers the most advanced integrated monitoring for the delivery room in big hospital; private obstetrician's office; antepartum clinic. F6 are designed for use in moving situation covers the entire continuum of antepartum and intrapartum applications.
Features:
Basic parameters: FHR, TOCO, Event Mark, AFM
Optional Dual FHR monitoring
Optional Internal parameters: IUP/DECG
24 hours waveforms playback
Optional Built-in wireless module
150/152mm wide paper printing
Support American/International standard
1、2、3cm/min real-time printing speeds
Quick printing for stored waveform
Lithium battery for 4 hours continuous working
10.2 – inch high resolution color folding up LCD screen
Probe rack and wall mounting rack
Handle for easy carry
Optional Fetal Stimulators
Multi-crystal pulse wave Doppler waterproof transducer for FHR detection
Signals Overlap Verification
Technical Specifications:

Physical Characteristics

Dimensions: 347mm x 330mm x 126mm
Weight: 6 kg. approx.

Display

10.2 inches color TFT-LCD
Resolution: 800 x 480

Printing

Recorder: 1,2,3/cm./min. real printing speed. Fast print speed (stored traces) up to 25mm/sec.
Recording Paper: 150/152mm, Z-Fold, thermosensitive, American/International Standard

Ultrasound

Technique: Ultrasound Pulse Doppler with correlation
Pulse repetition rate: 2 KHz
Ultrasound Frequency: 1.0MHz+10%
FHR range: 50bpm-240bpm
Resolution: 1bpm
Accuracy: ±2bpm

DECG

Technique: Peak – Peak detection technique
FHR range: 30bpm-240bpm
Resolution: 1bpm
Accuracy: ±1bpm
Input Impedance: >10M (Differential)
Input Impedance: >20M (Common Mode)

TOCO

TOCO range: 0-100 Relative (%)

Resolution: 1%
Zero mode: Auto/Manual
Non-linear error: ≤±10%

IUP

Pressure range: 0-100 mmHg

Resolution: 1%
Zero mode: Auto/Manual
Non-linear error: ±3mmHg

Auto Fetal Movement (AFM)

Technique: Pulsed Doppler ultrasound
Range: 0-100 (%)
Resolution: 1%

Marking

Manual fetal movement mark

Battery

14.8 V rechargeable Lithium-ion battery
Continuous working time: 2-4 hours

Communication port

DB9 network interface, RJ45 interface
Product Price:
$3,250.00

Click to add this item to cart.