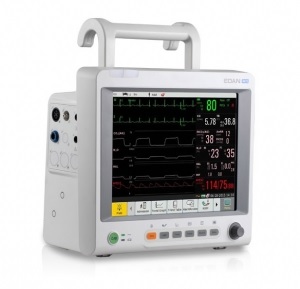 Product Description
Embedded with the latest improved designs, iM70 is meant to add splendors to the i Series portfolio and answer for the latest clinical requirements across the applications from general cares to anesthesia monitoring, while keeping connected to hospital systems in all divisions.
The high resolution color TFT-LCD together with the up-to-date customizable shortcut menu design brings easy one-touch access to frequent used functions, allowing more attentions to the patients.
Without making any noise or causing any dust deposition, the no-fan design of iM70 is especially suitable for night time operations and the divisions which require a dust-free environment.
Being embedded with various communication capabilities including HL7, LAN, built-in Wi-Fi, Nurse Call, and Defibrillator Synchronization, iM70 can easily communicate and co-work with hospital information system and other hospital facilities.
With a wide range of optional parameters from IBP to cardiac output, from capnography to anesthesia gas, iM70 can meet most clinical requirements in cardiovascular monitoring and gas monitoring.
Features:
Large high resolution color touch screen
No fan design
Touch & Configure
Water-proof & dust-proof keypad design
Pacemaker detection
Electrosurgical interference proof
Defibrillation protection and defibrillation synchronization
Pitch tone
iSEAPTM ECG algorithm optimized for arrhythmia detection, pacemaker detection, and HR measurement
iMATTM SpO2 algorithm with outstanding motion resistance and low perfusion resistance performance
iCUFSTM NIBP algorithm optimized for cardiac patients, hypertensive patients, and neonatal patients
Large storage capacity
Nurse call function
LAN connection with DHCP support
Optional built-in Wi-Fi
Bi-directional communication with the MFM-CMS central station
HL7 support
VGA output
Standard Parameters: 3/5-lead ECG, RESP, EDAN SpO2, EDAN NIBP, PR, 2-TEMP
Optional Parameters: Nellcor OxiMaxTM SpO2, OmronⓇ NIBP, 2-IBP, Respironics CO2, C.O., Phasein Anesthetic Gas/O2
*iM60 and iM70 cannot be sold into the dental market.