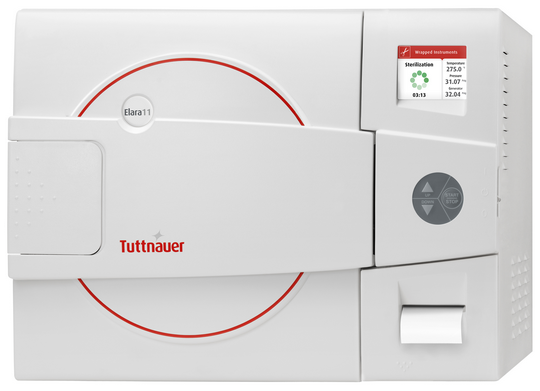 Product Description
The Elara11 tabletop autoclave is a reliable and robust Class B sterilizer designed for the needs of Dental clinics, Medical clinics and Veterinary clinics where autoclaving requires pre post vacuum sterilization.
Class B performance is achieved with a built-in vacuum pump used for fractionated pre vacuum air removal eliminating air pockets from all load types and maximizing efficient steam penetration throughout the entire load. After the sterilization stage the vacuum pump is used for efficient post-vacuum drying.
Safety is Our Top Priority
Safety Features:
316L grade stainless steel chamber and door with electro-polish finish
A cycle will not start unless the door is properly locked
Automated double locking safety device prevents door from opening while chamber is pressurized
Automatic safety shutoff prevents overheating of chamber and load
Two independent clean water level indicators: A digital alert and a visual indicator
A water level alert indicates when waste water reservoir should be emptied
Visual indicator and audible alert indicates if cycle is not properly completed
Autoclave Quick Quote!
Let us send you a custom Quick Quote our Tuttnauer Autoclaves
Ship One Unit in Continental US *