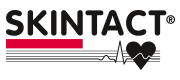 Product Description
One Box-600 Electrodes
Other Purchase Options:
Case: 2400 Electrodes
4 Electrodes per Pouch
Leonhard Lang USA Skintact FSRC3 foam wet gel electrodes feature Aqua-Wet gel adhesive for superior adhesion in all situations.  Latex & PVC free.
Diaphoretic
Hypoallergenic
Foam, Wet Gel
AG/AGCL
35x45mm
Comparable To:
3M
Kendall-LTP
Nikomed USA
Product Price:
$122.00

Click to add this item to cart.
Ship One Unit in Continental US *