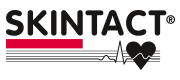 Product Description
Box of FS-TB Electrodes.
Skintact FSTB1 foam solid gel electrodes feature Aqua-Tac gel adhesive for superior adhesion in all situations.   Latex & PVC free
Solid Gel
Diaphoretic
Hypoallergenic
Foam, Lift Tab
AG/AGCL
50x54mm
Skintact FS-TB1  foam solid gel electrodes are available in three different quantities. Individual Pouches(shown here), Boxes and Cases . Each Pouch contains 30 electrodes
Custom quantities are available. Contact us for Pricing.
Comparable To:
3M
Conmed
Kendall-LTP
Nikomed USA
Vermed