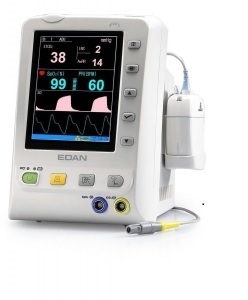 Product Description
M3B EDAN Sidestream CO2 Monitor with  Respironics CO2 highly advanced monitoring technologies, EDAN M3B ensures effective capnography monitoring for intubated and non-intubated patients for continuous long-term monitoring. It is tailored for mechanically ventilated and non-intubated patients.
M3B EDAN Sidestream CO2 Monitor Features:
5.7 inch high resolution display for easy reading
Lightweight, portable design and user-friendly interface for easy operation
 Respironics sidestream  CO2 measurement
Display numeric and waveform information simultaneously
Nurse call
Powerful storage capacity
Built-in Lithium-ion Battery for 8 hours working
Suitable for adult, pediatric and neonatal patients
Trend table review and record
Trend graph review and record
USB data storage and review
Wired and wireless network capability
Contact Us for Best Pricing!