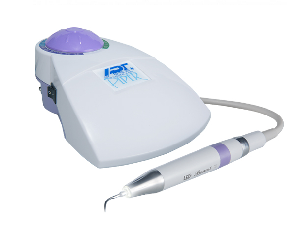 Product Description
Part number: P6-1-BMPS-A1-40-L
Piper (ART-P6) Warranty:
P.C. Board: 5-year limited warranty
Hand Piece: 1.5-year limited warranty
Power Cord: 1-year limited warranty
Tips: 90-day limited warranty
Foot switch: 90-day limited warranty
CE and ISO certified
510K registered
Included Parts and Accessories:
Piper (ART P6) Main Unit (x1)
Power Cord (x1)
PP0038-012: P6 foot switch (x1)
PS0018-262: BS-type piezo hand piece (x1)
PS0007-072: Metal piezo torque wrench (x1)
TP0102-042: BS-1 Universal pointed tip (x2)
TP0102-032: BS-2 Flat chisel tip (x1)
TP0102-022: BS-3 Round flat tip (x1)
Included accessories may vary per region.
Specifications:
Power Supply: 110V*
Working Freq.: 26Khz ~ 32Khz
Water Supply: 25-60Psi (172-414kPA)
Dimension: 7.68"(L) x 3.38″(W) x 3.27″(H)
Weight: 3.52 lbs.
Handpiece Cable Length: 8.52 feet
Footswitch Cable Length: 8.52 feet
Operating Environment Temperature: 0-140º F
Relative Humidity: 10-90% (non-condensing)
*220V model may be special ordered, but will require a minimum 6-week lead time prior to shipping.
Ship One Unit in Continental US *