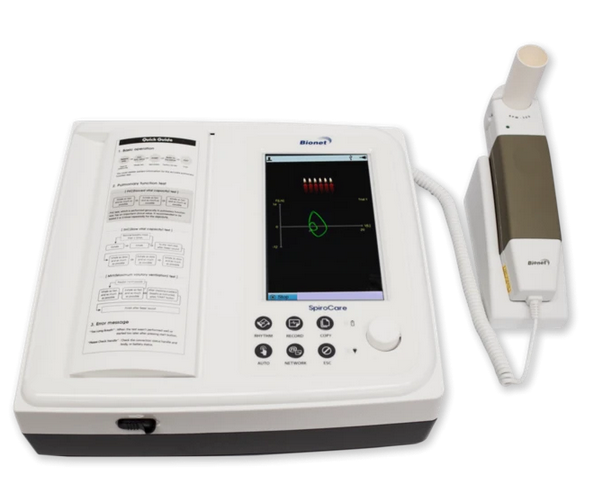 Pulmonary Function Testing
Touch Screen
Product Description
The SpiroCare unit is an accurate and hygienic spirometer. It features 7" color touch screen, provides FVC/SVC/MVV/post-bronchodilator tests, candle blowing-out animation to encourage patient success, accurate measurement from disposable mouthpiece with patented-sensor method, prints PFT test report with interpretation, and a 4-year warranty.
Saves up to 200 tests internally and exports saved data to USB flash drive, in JPEG/PDF/DCM file formats, and exports the saved data to a computer running Windows-based software, BMS-Plus, through WiFi or LAN.
FEATURES
FVC, SVC, and MVV Test
PFT Test Report with Interpretation
Pre- and Post-Bronchodilator Comparison
7" Color Touch Screen
WiFi Support
Built-In Printer and Rechargeable Battery
Disposable Mouthpiece with Patented Sensing Method
4-Year Warranty
Built-In Memory and Supports USB Flash Drive
A4 Full-Size Paper
Spirometry Filing System BMS-Plus
Product Price:
$1,950.00

Click to add this item to cart.