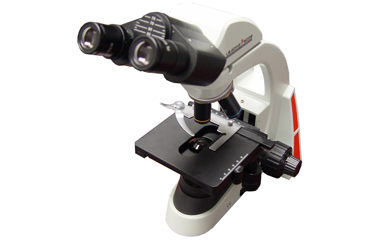 Medical-Grade quality biological microscope
Accessories:  Cleaning Kit, Oil, Storage/Transport case
Limited Lifetime Warranty
Product Description
Focus-V 1375
Microscope
Does more. Costs less.
Built-to-last, medical-grade quality biological microscope provides more features than the competition at a lower price. Powered by a LED Illumination System, the Focus-V 1375 produces sharp and clear images at any magnification. Compare to Swift in quality, craftsmanship and performance.
Binocular Seidentopf Head. Inclined 30°
Built-in Variable LED Illumination System provides a cool and bright, white light
10x & 16x Eyepieces
4X, 10X, 40XR, 100XR(Oil) DIN Achromat Objectives
Quadruple forward-facing nosepiece. Multiple ball bearing mounted
Mechanical stage (5.5″ W x 5.5″ D) with Coaxial drive controls
Hydraulic slide clamp
Coaxial Coarse/Fine focus with tension control knob
Abbe condenser, NA 1.25, rack & pinion
Adjustable Iris diaphragm
Recommended: Microscope Cleaning Kit
Includes: Lens fluid, Q-Tips, Microfiber cloth, Kim-Wipes, (3) Micro-brushes, dust puffer, durable storage case and cleaning instructions
Service and support in the USA
Warranty: Limited lifetime
Product Price:
$729.00

Click to add this item to cart.
Ship One Unit in Continental US *
Product Features
| | |
| --- | --- |
| MFGR | Leading Edge |
| Conditon | NEW |
| Suggested Retail | $950.00 |