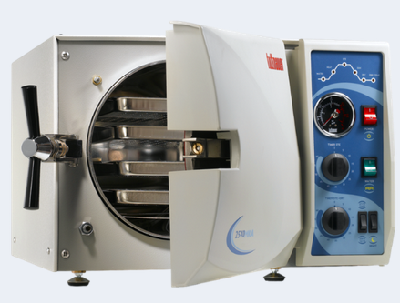 Product Description
Quick-cycle manual autoclave
T-Quick Autoclave
The only manual autoclave with closed door drying.
Fast cycles without compromising patients' safety! T-Quick cycles deliver dry instruments, no wicking and no recontamination to put patients at risk. Set it and forget it! Sterilizes and dries without the need to supervise.
Fast, efficient, space-saving powerhouse
Packed with features for the fastest, most versatile operation, the T-Quick delivers outstanding performance, speed, alongside unmatched safety features and intuitive controls. Everything you need for the most demanding high volume environments.
Post Covid-19 Chairside sterilization
Chairside sterilization is no longer recommended due to aerosols. The T-Quick autoclave solves this issue.
Sterilize more often
More loads throughout the day vs. full loads
Fast cycles
Faster cycles that deliver dry instruments and no wicking
Closed door drying
Your equipment will dry without having to open the door, saving you time
Simple Drainage
Valve is conveniently located at the front to allow quick and easy reservoir drainage
Overheating Protection
The dual safety thermostat and automatic shut-off deliver reliable protection from overheating
Details
Chamber Size 10″ x 19″
Voltage:220/230V
1 Year Warranty
Suggested Retail Price $ 7,855.00
Product Price:
$6,284.00
1 Price
$0.00
2 Price
$0.00
3 Price
$0.00

Click to add this item to cart.
Ship One Unit in Continental US *
| | |
| --- | --- |
| Attached PDF: | |