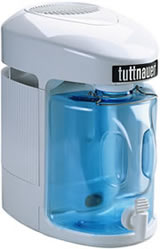 Product Description
Tuttnauer offers a distiller that provides pure water that is 99% free of total dissolved solids. These distillers eliminate the inconvenience and expense of buying bottled water. Their ease of operation makes them ideal for any medical, dental or laboratory application.
MODEL 9000 STEAM DISTILLER
The Tuttnauer 9000 features a removable boiler for easy fill and a unique recessed heating base to reduce scale buildup.
Contemporary Euro-Style Design
Manual Fill – No Water Hookups
Automatic Shut-Off
Post Carbon Treatment System
Stainless Steel Condenser Not Aluminum
External Heating Element for Long Life
Fan-Delayed Start for Improved Efficiency
UL Listed #28KL
EST #46050JPO1
USA Patent Pending
1 Year Limited Warranty – Parts & Labor
120VAC/ 60 Hz 750 W
International 230VAC/50 Hz 750W
Distillate Capacity – 1 Gallon (3.97L) in 4.5 Hours Will Provide Up to 5 Gallons (18.93L) in 24 Hours
Product Price:
$571.20

Click to add this item to cart.
Ship One Unit in Continental US *